---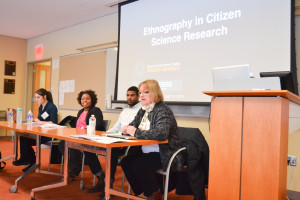 UPDATE (Mar 23): The Graduate Research Symposium was a blast! We had 16 poster and 29 paper presentations in concurrent sessions, along with roundtable and panel discussion sessions. You can visit the GRS website at gradresearch.syr.edu for more information.
Thanks to those who made it happen, especially all the participants. Keep an eye out for next year's Graduate Research Symposium!
---
2nd Annual All-University Graduate Research Symposium is a great opportunity for all graduate students to further their presentation skills, both by attending the skill-building seminars/workshops and presenting at the symposium. The GRS has a friendly atmosphere — an excellent opportunity to present your work or discuss ideas without a sweat!
Whether you have completed or near-complete work that you would like to present to your peers, or have ideas that you would like to discuss with graduate students and faculty/staff members in panel and roundtable discussions, the GRS is a great opportunity to improve your skills and network! The GRS opens up endless possibilities through new collaborations with students and faculty/staff you have never worked with before. Don't forget to check out the skill-building seminars!
Submission deadline: February 15, 2015.
For more information, visit the GRS website at gradresearch.syr.edu.