GSO Event: Pumpkin Carving, Oct 24 (RSVP!)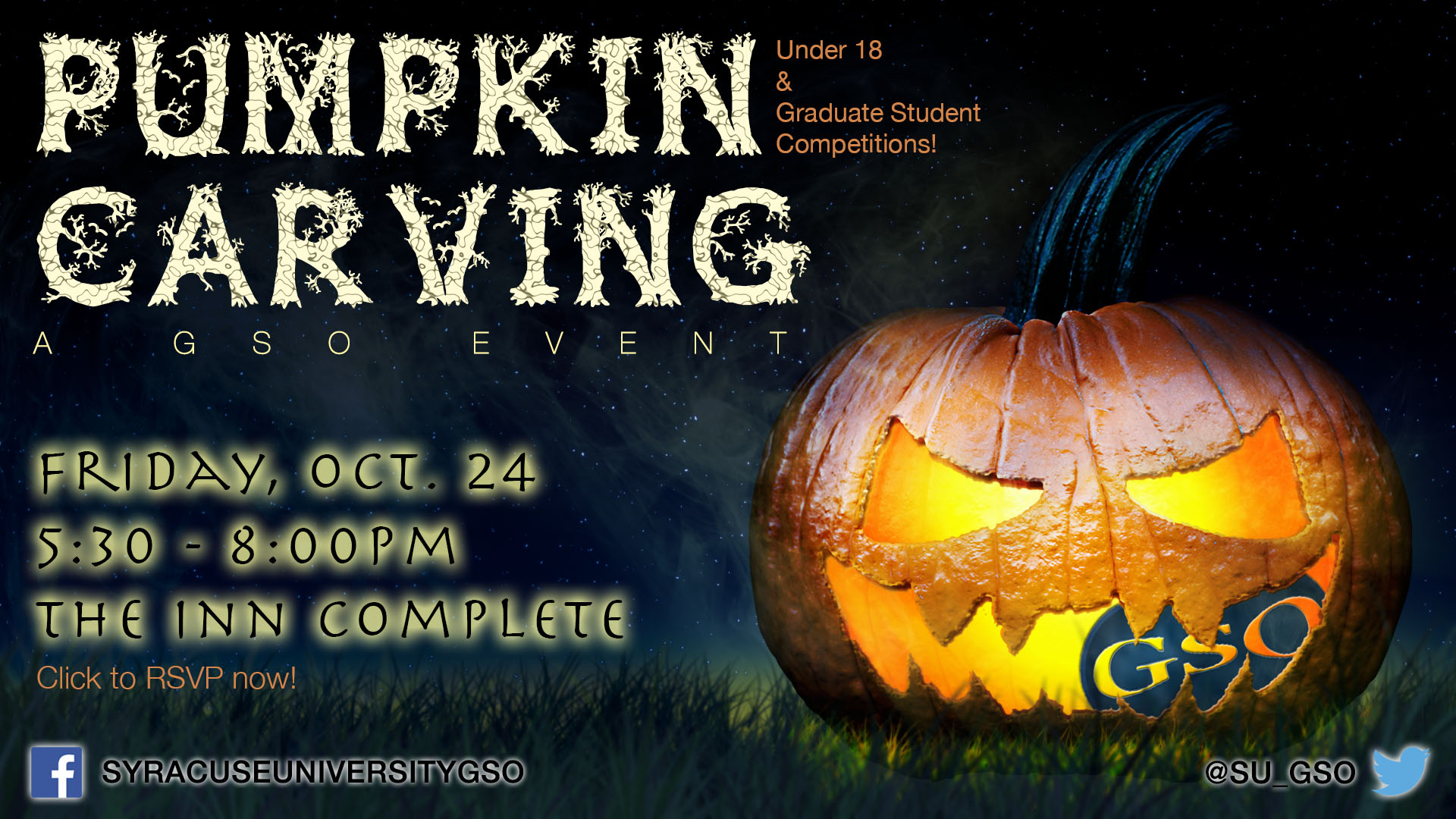 GSO Syracuse Challenge 2014-15

GSO Commitment to Promoting Campus Dialogue on Campus Acceptance
The GSO is deeply concerned and saddened by the recent incident involving use of hate speech on campus. Statements that include racial and homophobic slurs are intolerable in any circumstance, and the GSO condemns the use of such language as offensive to the dignity of all human beings, as well as detrimental to building a campus culture of tolerance and respect. We should use this opportunity not to demonize one person, but to give rise to a greater awareness of the issues of diversity and respect at Syracuse University. It should serve to galvanize the community to action, moving forward to improve our campus culture, educate our community on the issues of intolerance, and promote an atmosphere that is safe and welcoming for students, faculty, and staff no matter their racial background, sexual orientation, or gender identity.
While the GSO applauds the quick response of University administrators to this incident and urges them to continue efforts to engage the community in dialogue, the campus must commit to hard conversations and an intense examination of our community. We must take decisive steps to identify and eliminate instances of intolerance in ourselves and on our campus. The GSO urges all students to engage in the improvement of our campus culture and to be active in discussing the standards of conduct that we are all committed to upholding. We recognize that students with marginalized identities have been the recipients of intolerant and disrespectful comments from their peers in the past, and the video is powerful reinforcement that the need for positive and progressive reform is ongoing. It is with this recognition that we commit ourselves to a process of university wide self-examination and improvement.
The GSO is committed to working with Chancellor Kent Syverud, Provost Eric Spina and Senior Vice President and Dean of Student Affairs Rebecca Reed Kantrowitz in the coming days. We encourage any concerned students to reach out to the GSO, contacting our President Patrick Neary at gso@syr.edu.
---
GSO and SA Respond to Advocacy Center Shutdown
The Graduate Student Organization and Student Association have released a joint statement concerning the shutdown of the Advocacy Center. Please see it here.
---
If you are a graduate student, the GSO is your recognized voice at SU.
Please take a look at the many benefits and services provided to you through the GSO and feel free to contact us with any questions.
The GSO is committed to maintaining Syracuse University as a first-rate institution for graduate education in all aspects of graduate student life.
---
Calendar of Events
If you would like to add your event to our calendar, please email us two weeks in advance.